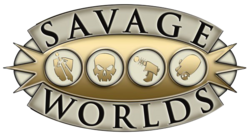 Note that for Extras these ranks are generally approximate—Savage Worlds specifically discourages assigning Ranks to Extras, and especially villainous Extras.
Legendary
Edit
Wild Cards
Edit
Wild Cards are typically 'major' NPCs, or NPCs who are individually rather more dangerous in combat. 
Extras are typically 'minor' NPCs, and are often not even named. They're mooks, henchmen, soldiers, individual members of a ravaging horde, and so forth.
All Savage Worlds Characters
Edit
Pages in category "Savage Worlds"